Celebrating our Success
RMH recognizes the commitment and excellence of its interdisciplinary team in many ways. Throughout the year, there are events and celebrations that mark the efforts of the employees, physicians and volunteers who help the Ross to provide Exceptional Care - Together.
Ross Memorial Hospital celebrates successes and appreciates staff with its Long Service Awards, Medical Staff Recognition, Staff Appreciation Day and Volunteer Appreciation Tea.
In addition, the Awards of Excellence are presented twice per year to individuals for their exceptional initiative in going beyond their defined role and doing so with excellence.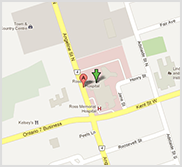 Maps
10 Angeline St. North
Lindsay, ON K9V 4M8
Directions
Floorplans
@RossMemorial
Follow us and stay up to date on news, events and health related issues: