Awarding Excellence
The Ross Memorial Hospital has recently updated its Awards program. With input from the Celebrating Successes Committee, Human Resources, the Medical Staff Office and the CEO, and with staff feedback, the excellence awards was refreshed in 2016.
Members of the RMH team (employees, physicians, volunteers, patients/family, community partners) may nominate peers throughout the year to be recognized for being:
Champions of Change
Respectful Communicators
Team players
Dedicated to Excellence
Once approved by HR, the people who have been nominated will receive a letter and certificate from the Public Relations Office, indicating that they have been recognized and inviting them to:
Visit the online catalogue of gifts to commemorate this achievement (options include a James Ross pinette, RMH clothing, commemorative gift or donation in lieu of gift); and
Attend the next presentation of our awards.
During the awards presentations, the traits being recognized (with some quotes from nomination letters) will be highlighted and all people being recognized will be called forward to be celebrated with:
a lanyard which specifies one of the four traits; and
a photo to be posted

on the Employee Recognition Wall in the main lobby; and
on the Hospital's website
on the RossConnect
in the Monday Report
The awards will be presented twice per year:
In November following the Long Service Awards; and
In May between the first and second General Staff Meetings (9:30am-9:45am).
Recipients may choose which event they will attend; they may also choose not to be recognized publicly.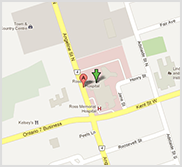 Maps
10 Angeline St. North
Lindsay, ON K9V 4M8
Directions
Floorplans
@RossMemorial
Follow us and stay up to date on news, events and health related issues: