Long Service Awards
Every year, Ross Memorial Hospital celebrates its staff and medical staff for their years of dedicated service to the Hospital. Both the staff and the medical staff are recognized in special ceremonies, attended by peers and colleagues. These events are opportunities to formally recognize the many years of dedication that these individuals have given to the Hospital. Ross Memorial Hospital is more than just bricks and mortar, more than facilities or equipment; it is about the people who provide the care and services every day. These ceremonies recognize staff and physicians for their commitment and loyalty to Ross Memorial and the community.
Staff Recognition
Every November, Ross Memorial Hospital holds a special recognition ceremony to honour employees who have completed anywhere from five years to 40 years or more of service to the Hospital. Everyone at the Ross is an important and integral part of the Hospital and Ross Memorial looks forward to the continued contribution of employees to the Hospital and to health care, especially as everyone sets their sights towards achieving the goals of an expanded Hospital to better serve our patients and their families.
Medical Staff Recognition
Every December, Ross Memorial Hospital honours its physicians in a special ceremony for their years of dedicated service. For many years now and for many more to come, our physicians have provided and will continue to provide the medical leadership that Ross Memorial has come to expect and appreciate. It is the exceptional care that our physicians take with their patients, and it is their strength and loyalty that helps to ensure that Ross Memorial continues to provide quality health care services to the community.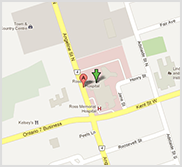 Maps
10 Angeline St. North
Lindsay, ON K9V 4M8
Directions
Floorplans
@RossMemorial
Follow us and stay up to date on news, events and health related issues: