RMH warns of Fraudulent Offers of Employment
April 11, 2019 - The Ross Memorial Hospital is aware that certain persons and/or agencies are sending fraudulent offers of employment on behalf of Ross Memorial Hospital to healthcare
professionals, primarily in India.
These persons or agencies purporting to be the Ross Memorial Hospital are illegitimately using our logo and pretending to be from the Human Resources department.
Please note our organization has not and would never offer an employment contract in exchange for payment.
If you receive an employment offer or anything of that nature from admin@r-m-h.org, and/or the telephone number 1-646-844-8464, please disregard as this offer is fraudulent.
To view current Ross Memorial Hospital vacancies, please click here.
To view current physician vacancies, please click here.
Please email IT Help Desk at the Ross Memorial Hospital if you have any questions or any information on the matter of fraudulent job offers.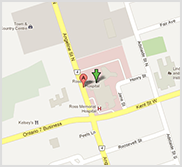 Maps
10 Angeline St. North
Lindsay, ON K9V 4M8
Directions
Floorplans
@RossMemorial
Follow us and stay up to date on news, events and health related issues: