Community Counselling
Community Counselling Services were established in 1977 and are now located on the 2nd Floor East Wing of Ross Memorial Hospital. Self-referrals and referrals from physicians, or other helping professionals are welcome.
How to Make an Appointment
Appointments can be made by calling 705-328-6064 or 705-324-6111 ext 8221.
Community Counselling offers a number of programs to mental health patients, including a Clinical Case Management Program, a Child and Youth Sexual Abuse Program, a Crisis Response Program and 24-hour crisis links with other hospitals in the region.
Community Counselling also offers psychiatric services. There are part-time psychiatric staff members who provide medication monitoring, assessments, and short-term follow-up with referrals back to family doctors.
Services offered by Community Counselling include:
In the last fiscal year, Community Counselling Services provided service to a combined active caseload of 1,240 people.
Community Counselling Brochure
The staff of Community Counselling Services look forward to continue serving the residents of the City of Kawartha Lakes well into the future as mental health issues become an ever growing concern to employers, our aging and retiring population and the young families that move here looking for accessible community services.
Confidentiality
All counselling requests are handled in the strictest of confidence and are free of charge to all residents of the City of Kawartha Lakes.

In order to protect your confidentiality, your written approval is required prior to the release of any information either verbal or written, except in circumstances where the legal system requires disclosure.

Any declarations regarding risk to others or other illegal activities may require disclosure to the legal system.
Your personal health information is protected under the "Personal Health Information Protection Act, 2004" (PHIPA). This law sets out the rules that we as healthcare providers must follow when collecting, using and sharing your personal health information.
This law also gives you the right to:
Give permission to how your personal health information is collected, used and shared

Request access to your health records

Make corrections to your records
To find out more about your rights under PHIPA please go to http://www.ipc.on.ca/ or call 1-800-387-0073.
Information for Young Adults about Privacy Rights and Consent to Share Treatment Information
Client Complaint Procedure
Ross Memorial Hospital Community Counselling Services is committed to providing high quality, timely, sensitive service to our clients. We would very much appreciate hearing any concerns you may have about the services we provide.

Share your concerns with your therapist and/or staff of the main office who will immediately contact the Program Manager or Director.
Change of Psychiatrist Brochure
24-Hours Crisis Links
Ross Memorial Community Counselling has 24-hour crisis links with other hospitals in the region as follows:
Ross Memorial Hospital
Emergency Department
Lindsay, Ontario
705-324-6111
Peterborough Regional Health Centre
705-743-2121
Lakeridge Health - Oshawa
905-576-8711
Longer-term stabilization is available through:
Whitby Mental Health Centre
24-Hour Crisis Line
1-800-263-2679
Other community mental health services include:
Whitby Mental Health Centre
Lindsay Outreach Clinic
705-878-3379
Reach for Recovery
705-878-3379
Canadian Mental Health Association
705-328-2704

For other support and service information, please go to Emergency Phone Numbers, Support Services and Resources.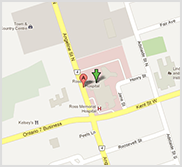 Maps
10 Angeline St. North
Lindsay, ON K9V 4M8
Directions
Floorplans
@RossMemorial
Follow us and stay up to date on news, events and health related issues: