Orthopaedic Technologist - Casual - ACU

Orthopaedic Technologist - Fracture Clinic - Ambulatory Care Unit
Casual Position
Ross Memorial Hospital (RMH) is an active, acute-care community hospital located in the heart of the City of Kawartha Lakes. Among our acute and continuing care services, our team cares for 45,000 patients per year in the 24/7/365 emergency department, provides orthopedics and ophthalmology, operates a dialysis unit, and is renowned for its mental health programs and restorative seniors care. The Ross family takes pride in providing compassionate, quality patient care.
RMH is currently seeking a Casual Orthopaedic Technologist for the Fracture Clinic in the Ambulatory Care Unit.
Ross Memorial Hospital is committed to meeting the needs of persons with disabilities. Accommodation will be provided throughout the hiring process at the request of the applicant.
Must meet expectations for appropriate, respectful and professional conduct, as set out in the RMH Code of Conduct.
Summary
The Orthopedic Technologist is a paramedically trained individual who performs his/her duties under the direction of an orthopaedic surgeon. The orthopaedic technologist collaborates with other members of the health care team.
Hours of Work
Must be available for day shift, Monday to Friday. Shifts and hours may change according to departmental requirements and as per the OPSEU Collective Agreement.
Rates of Pay
$28.85 to $33.22 per hour
Essential Qualifications
Registered by the Canadian Society of Orthopaedic Technologists (CSOT)
Graduate of a recognized Orthopaedic Technologist Programme sanctioned by the CSOT, apprenticeship programme, and sponsorship by an Orthopaedic Physician
Grade 12 diploma or equivalent
Current BCLS (on hire)
Knowledge of and experience with Orthopaedic conditions/injuries and casting including related orthopaedic technologists
Demonstrated commitment to continuing education (as per registration requirement)
Exemplary work attendance record is required
Superior communication and interpersonal skills required
Energetic, highly motivated, detail oriented individual with strong work ethic
Demonstrated strong organizational skills
Demonstrated ability to deal effectively and co-operatively with all levels of staff, patients, family and the public
Must be able to fulfill physical requirements of the job, as per current Physical Demands Analysis
Preferred Qualification
Nursing/Medical background an asset
Please refer to Reference # 1819/339-CPT
Posted: January 11, 2019
Closing: Will remain open until filled
This is a union position posted under the OPSEU Collective Agreement.
Apply, in writing, no later than 1600 hours on or before the closing date noted above, to:
Human Resources Department
Ross Memorial Hospital
10 Angeline Street North
Lindsay, Ontario K9V 4M8
Fax: 705.328.6160
Email: humanresources@rmh.org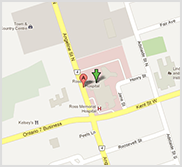 Maps
10 Angeline St. North
Lindsay, ON K9V 4M8
Directions
Floorplans
@RossMemorial
Follow us and stay up to date on news, events and health related issues: