Governance
Accountability & Transparency
Every day, the Ross Memorial team exemplifies the hospital's vision statement: exceptional care - together.
Among the valued members of the hospital team are the members of the Board of Governors. The Board of Governors is comprised of volunteers who are elected from the community. The Board is responsible for the overall governance of the hospital. Its members set strategic priorities and ensure they're met; they assess the quality of the care provided, and ensure financial resources are managed appropriately. In addition to monthly board meetings, members serve on various committees of the Board.
With input from the Board of Governors, RMH establishes strategic directions and sets annual objectives to achieve them.
Our strategic directions provide a framework to focus expertise, address priorities, cultivate excellence, champion collaboration, and enhance our service delivery. In order to achieve exceptional care as valued by our patients and partners, RMH will engage in the following strategic directions:
To be an exceptional workplace.
To provide exceptional patient care and experiences.
To develop exceptional partnerships and deliver operational excellence.
In order to properly assess the evolving healthcare needs of the community, the hospital consults with its community partners, both within the City of Kawartha Lakes, and in the Central East LHIN.
With quality improvement our key strategic priority, the hospital publishes an annual Quality Improvement Plan (QIP), which is used to monitor and report on key quality indicators. The QIP includes specific targets and improvement plans established for the five highest priority indicators and is used to spearhead quality improvement work. The 2019/20 QIP includes the 2018/19 Progress Report.
We take quality improvement very seriously and are committed to achieving the targets that we set for our organization. Focusing on both our successes and our challenges is important as we drive our hospital to continue to improve care.
Hospitals, like many other complex businesses, may have employees who incur business-related expenses that are permissable and should be reimbursed. Our hospital has a detailed policy related to business-related expenses incurred by our staff.
Taxpayers want to know that their healthcare dollars are being spent appropriately. Ross Memorial Hospital is committed to being accountable, open and transparent with its stakeholders and the general public. Compliant with the Broader Public Sector Accountability Act, the Ross Memorial posts the expense claims of all board members and the senior management team.
Ross Memorial Hospital has a detailed Perquisite policy to set out the rules and principles for perquisites where these are provided through public funds and ensure a framework of accountability.
The hospital also has a policy to ensure an ethical, professional and accountable supply chain.
In accordance with the Broader Public Sector Accountability Act, the hospital reports on its use of consultants, and attests to the accuracy of its reporting.
In the spirit of transparency, the Ross Memorial Hospital is proactively disclosing the CEO's employment contract. The CEO, Dr. Bert Lauwers, has been part of the RMH team for more than 30 years, and began his role as President and CEO on January 1st, 2015. As required by the Excellent Care for All Act, our CEO's compensation is linked to our hospital's performance.
It is an organization-wide goal at the Ross Memorial Hospital to be a responsible neighbour, a good corporate citizen and a community leader in environmental awareness. With the help of the "Go Green Team", the hospital is effectively reducing its carbon footprint by reducing its energy consumption, preserving natural resources and diverting waste from landfill. In compliance with provincial legislation, RMH posts its annual energy consumption and greenhouse gas emission and makes this information available in hardcopy as requested.
If you'd like more information about any of these topics, please contact the Communications and Public Affairs Officer at 705-324-6111 ext. 6246 or email publicrelations@rmh.org.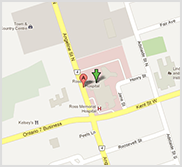 Maps
10 Angeline St. North
Lindsay, ON K9V 4M8
Directions
Floorplans
@RossMemorial
Follow us and stay up to date on news, events and health related issues: