Annual Reports
Click on one of the following links to download the Ross Memorial Hospital Annual Report. The current report will always be shown first.
Perspective is everything: Patient & Family Experience Partners at RMH
Twenty minutes into her first meeting as a Patient Experience Partner on the Ross Memorial's Accessibility Committee, Cathy Wright was making an impact on patient care.
As a stroke survivor, Cathy pointed out that the distance between automatic open buttons and certain doors didn't allow enough time to get through the door after pushing the button. It's a problem the Hospital's Engineering Department will now aim to remedy.
To read the rest of this story and more, click below to view this year's annual report:
---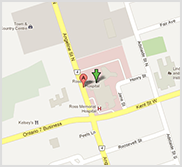 Maps
10 Angeline St. North
Lindsay, ON K9V 4M8
Directions
Floorplans
@RossMemorial
Follow us and stay up to date on news, events and health related issues: