Annual Reports
Click on one of the following links to download the Ross Memorial Hospital Annual Report. The current report will always be shown first.
RMH Achievements in 2018/19
The RMH Intensive Care Unit/Respiratory team is proud to be an early adopter of the National Early Warning Scores (NEWS2) system, which flags deterioration of a patient's condition and helps to avoid serious adverse events.
NEWS2 was implemented on the Medical Unit in June 2018 and has spread to include the Surgical Unit and admitted patients in the ED.
Using a consistent list of commonly measured physiological parameters, nurses track patients' scores on the standardized NEWS2 chart. Changes in respiration rate, oxygen saturation, systolic blood pressure, heart rate, confusion and temperature will alter a patient's score and trigger an alert. A score of 5 or more triggers an urgent clinical review. A score of 7 or more triggers a clinical alert and a call to the Ross Memorial's Medical Emergency Team (MET).
Clinical studies have indicated that NEWS2 is a strong indicator of increased risk of serious clinical deterioration and mortality in patients with sepsis. The implementation of NEWS2 throughout the organization has helped RMH to meet its 2018/19 Quality Improvement Plan goal to reduce the number of incidents where we fail to appreciate status change or deterioration in our patients.
To read other achievements, click below to view this year's annual report:
---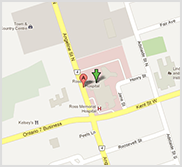 Maps
10 Angeline St. North
Lindsay, ON K9V 4M8
Directions
Floorplans
@RossMemorial
Follow us and stay up to date on news, events and health related issues: