Annual Reports
Click on one of the following links to download the Ross Memorial Hospital Annual Report. The current report will always be shown first.
RMH Achievements in 2017/18
Dave McNabb of Little Britain first met Respiratory Therapist Tara Smith when he was rushed to the Emergency Department with breathing difficulties in February 2018.
"I was at home and couldn't breathe," Dave said. "They got me hooked up to a machine and got me breathing again. Throughout my stay, Tara would stick her head in to see how I was doing."
When it was time to go home, Dave was referred to the Ross Memorial's new Chronic Obstructive Pulmonary Disease (COPD) Clinic. During regular visits, Dave is seen by Internist Dr. Nicolas Croteau and other members of the Respiratory Therapy team, who monitor Dave's condition and teach him to better manage his health.
"I was a heavy smoker, and stopped ten years ago. The breathing problems are brought on by a number of things." "They showed me how to use puffers to regulate my breathing, and if there are signs of trouble, I get my butt back in here."
Before the launch of the COPD Clinic in October 2017, the Respiratory Therapy team would see the same patients readmitted to hospital with COPD complications. By providing an opportunity for patients to visit the outpatient clinic and ask questions of Dr. Croteau and the Respiratory Therapists before symptoms become emergencies, they're able to avoid frustrating readmissions to hospital.
To read the rest of this story and more, click below to view this year's annual report:
---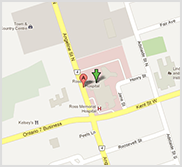 Maps
10 Angeline St. North
Lindsay, ON K9V 4M8
Directions
Floorplans
@RossMemorial
Follow us and stay up to date on news, events and health related issues: