Strategic Planning at RMH
Each day at the Ross Memorial abounds with patients, procedures and programs. As we focus on immediate needs and challenges, it can be difficult to see big picture impacts of our actions. That's why it's important to have a clear plan in place, to keep our team members moving in the same direction.
Ross Memorial has completed a new strategic plan to guide the hospital's decision-making from
2015-2021. It will be an exceptional journey.
Our new mission summarizes our purpose.

An Exceptional Community Hospital
Valued by our Patients and Partners

We provide quality acute and continuing care, inspired by our patients and families, within a team that is committed to:
Improving health by anticipating and responding to the health needs of the community;
Collaborating with our health service partners, both in our community and beyond; and,
Promoting a progressive and healthy work environment
Our vision highlights the future state to which we aspire, focusing our talents and our resources.
It emphasizes our intention to champion partnerships to enhance health service delivery. It embraces the work we've done, and the potential that lies ahead. Vision 2021: Exceptional Care - Together
Our values guide us in our actions every day, in every encounter. They set the standard by which we hold ourselves, our peers and our care partners accountable: compassion, respect, excellence and integrity.

Our strategic directions provide a framework to focus expertise, address priorities, cultivate excellence, champion collaboration, and enhance our service delivery. In order to achieve exceptional care as valued by our patients and partners, RMH will engage in the following strategic directions:
Patient and family-inspired care: achieving patient goals.
Consistent, reliable quality: every patient - every day.
Enhancing teamwork and care models: improving outcomes.
Championing partnerships: working together.
Safeguarding Financial Health: strengthening resilience.
We invite you to read the full 2015-2021 Strategic Plan.
If you have questions about our strategic directions, or our annual goals and objectives, please contact our Public Relations office at 705-328-6246 or email publicrelations@rmh.org.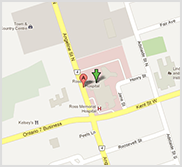 Maps
10 Angeline St. North
Lindsay, ON K9V 4M8
Directions
Floorplans
@RossMemorial
Follow us and stay up to date on news, events and health related issues: