Don't miss the 2018 Walk of Life!
2018 Walk of Life focuses on Women and Heart Disease
April 26, 2018 - Heart disease is the leading cause of premature death for women in Canada, according to a recent report from the Heart and Stroke Foundation of Canada. A new initiative by Heart and Stroke, called 'Ms. Understood', sheds a light on health system gaps that lead to women's heart disease being under-diagnosed, under-treated and under-researched.
Ms.Understood will be the topic of a special presentation to take place before the RMH Cardiovascular Rehabilitation program's Walk of Life on Friday, May 4.
Better known as Cardiac Rehab, the team at RMH assists people who have had a heart attack, heart surgery, symptoms of heart disease, or those who are at high risk of developing heart disease. The program provides education, exercise, monitoring and support for participants and their families.
In order to provide patients ongoing access to appropriate exercise equipment and education materials, the team encourages participation in the annual Walk of Life fundraising event.
Registration begins at 1:00pm on Friday, May 4. The Cardiac Rehab team will make a special presentation entitled Women and Heart Disease at 1:45pm and the Walk of Life will begin at 2:00pm.
The local media are invited to attend.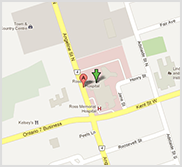 Maps
10 Angeline St. North
Lindsay, ON K9V 4M8
Directions
Floorplans
@RossMemorial
Follow us and stay up to date on news, events and health related issues: