Norovirus Outbreak over and visitor restrictions ended at RMH
March 16, 2018 - The Ross Memorial Hospital is pleased to report the Norovirus outbreaks on two inpatient units have ended.
The outbreak on the third floor Medical Unit was declared over on Thursday, March 15. The outbreak on the first floor of the Continuing Care Unit was declared over on Friday, March 16.
Visitors were welcomed back following a complete double-cleaning of both units.
"On behalf of the entire hospital team, I'd like to thank our patients and their families and friends for your patience during this challenging time," said Anne Overhoff, Vice President Patient Care and Chief Nursing Officer. "By postponing your visits and calling or emailing instead, you've helped us to resolve the outbreak quickly. We're glad to be able to welcome our visitors back to these two inpatient units. We know our patients' time in hospital is made easier when loved ones are close by."
All visitors are reminded to continue to clean your hands often when at the Ross Memorial, especially when entering and exiting patient rooms. Visitors are asked to stay home if they're feeling unwell.
People may send their get well wishes by email at tlc@rmh.org. Emails are hand delivered to patients each weekday.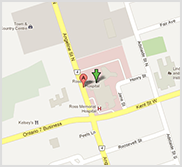 Maps
10 Angeline St. North
Lindsay, ON K9V 4M8
Directions
Floorplans
@RossMemorial
Follow us and stay up to date on news, events and health related issues: