RMH issues Notice of Damage to Patient Records
February 15, 2018 - Ross Memorial Hospital (RMH) has discovered a number of patient records have been extensively damaged due to water. As a result these records cannot be restored and are scheduled to be securely destroyed.
It has been determined that the following records were affected:
For in-patients discharged from Ross Memorial Hospital between 1979 and March 2012, the nursing notes associated with that visit.
The fetal monitoring strips for hospital births between 1986 and May 31, 2017.
RMH has notified the Information and Privacy Commissioner / Ontario. If you have any questions or concerns please call Sue Grant (705-328-6249) at Ross Memorial Hospital or call the Information and Privacy Commissioner of Ontario at 1-416-326-3333.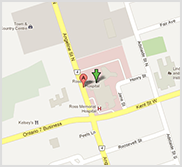 Maps
10 Angeline St. North
Lindsay, ON K9V 4M8
Directions
Floorplans
@RossMemorial
Follow us and stay up to date on news, events and health related issues: