RMH to Volunteers: Thank you for being a friend!
April 20, 2018 - Throughout the Hospital, volunteers have a significant impact on patients' experience by assisting on the frontline, through fundraising efforts, behind the scenes, and out in the community. The Ross Memorial Hospital team was pleased to invite its exceptional group of volunteers to a special event to celebrate National Volunteer Week.
RMH President and CEO, Dr. Bert Lauwers, thanked the volunteers on behalf of the organization:
"There are a lot of things that make up 'exceptional care'. Exceptional care includes smiling, welcoming faces at the Information Desk. It includes kind, congenial service in the Reflections Gift Shop and Café. It includes helpful directions to patients and visitors. It includes happy visits and conversations with patients who become weak and confused during long hospital stays. It includes a warm blanket when you're waiting for a procedure. You are a big part of exceptional care at the Ross. You also play an important role in the final word in our vision statement: Together. Because together – all of your helpful gestures, and all of your fundraising efforts, and all of the scheduling phone calls and organizing – all of you have a significant impact on our patients' experience."
To show the volunteers how much the entire Hospital team appreciates their service, all departments participated in the making of a 'thank you' video, set to the Andrew Gold song, Thank you for being a friend.
You can view the video here: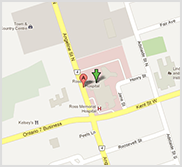 Maps
10 Angeline St. North
Lindsay, ON K9V 4M8
Directions
Floorplans
@RossMemorial
Follow us and stay up to date on news, events and health related issues: