X-ray and Mammography enhancements set to begin at RMH
May 2, 2018 - With the signing of a contract, Ross Memorial is set to begin a Diagnostic Imaging redevelopment that includes significant enhancements to X-ray and Mammography services.
On Tuesday, May 1, President and CEO Dr. Bert Lauwers and Vice President Diagnostics, Procurement and Special Projects Veronica Nelson joined Michael and Geoff Unwin of Quinan Construction Limited of Orillia to sign the Diagnostic Imaging Interior Alteration Project contract.
"We're thrilled to begin these enhancements to the X-ray and Mammography areas of the Diagnostic Imaging Department," said Veronica Nelson. "This modernization will impact both our patients and our staff, and help us to achieve our goals to provide exceptional quality patient care and experiences, and to be an exceptional workplace."
This redevelopment project will see the right-sizing of the X-ray (general radiography) rooms, turning four small spaces into three larger rooms that will better accommodate new equipment and workflow, and improve patient accessibility. The enhancements also include the installation of a new 3D Mammography unit, purchased with the help of generous donors in our community.
Work will begin in the coming weeks, and will be done in phases to limit the disruption to patients and wait times.
More than 70,000 exams are performed in the Diagnostic Imaging Department annually, including 35,000 X-ray exams and 5,900 Mammograms.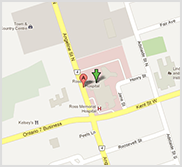 Maps
10 Angeline St. North
Lindsay, ON K9V 4M8
Directions
Floorplans
@RossMemorial
Follow us and stay up to date on news, events and health related issues: