Visiting a Patient
Visiting Hours & Guidelines
NEW: We're offering Virtual Visits to help you stay in touch with your loved one. Learn more.
Following recommendations from the Ministry of Health during the COVID-19 pandemic, we have restricted all visitors at this time. There are a few exceptions:
For compassionate reasons, including palliative, please contact the unit to pre‐arrange visiting in these areas (visitors should call 705‐324‐6111 and ask for appropriate unit)
Obstetric patients are permitted one support person. The accompanying support person does not have 'in and out' privileges and may remain with the mother for the duration of the hospital stay.
Emergency Department patients are asked to attend alone, unless they are a minor or require a support person for compassionate reasons.
For the latest information about restrictions during COVID-19, please visit: https://rmh.org/covid-19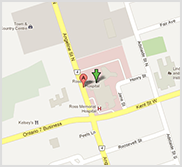 Maps
10 Angeline St. North
Lindsay, ON K9V 4M8
Directions
Floorplans
@RossMemorial
Follow us and stay up to date on news, events and health related issues: